Rebecca Crowl, MSN, NEA-BC
President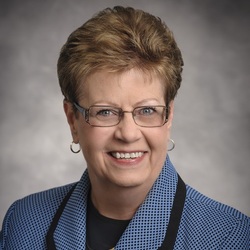 Rebecca Crowl, MSN, NEA-BC
President
330-363-6164 - becky.crowl@aultmancollege.edu
Diploma, Aultman Hospital School of Nursing
BSN, Kent State University
MSN, The University of Akron
As the 1st President of Aultman College, Rebecca Crowl was appointed in February 2004. During her Tenure Aultman College became established as a 5013C company, separate from Aultman Hospital. Aultman College was approved by the Ohio Board of Regents as a college in 2005. Aultman College was successful in achieving initial accreditation from the Higher Learning Commission in 2009.
Aultman College is important to our community. Many of the students arrive at Aultman College's doors after attending other local colleges. They explain that this place "feels like home and they can make a difference here." Aultman College is able to provide for students an excellent education while exposing them to the sights and sounds of a large health care entity. They feel welcomed and accepted by the faculty and staff. The academic culture of the college is evident to each student that visits. This enriching environment allows the students to gain a health care-related education through hands on practical skills training.
Ms. Crowl is honored to have been chosen as the 1st President of this wonderful College. She also has been blessed to meet and know many wonderful individuals through the development of the new Aultman Company. She believes the legacy of Aultman College will continue well into the future providing the community with excellent health care employees.
Her interests outside of work include reading, enjoying nature and being involved with family and friends. She is a proud graduate of Aultman School of Nursing, Kent State University and Akron University.