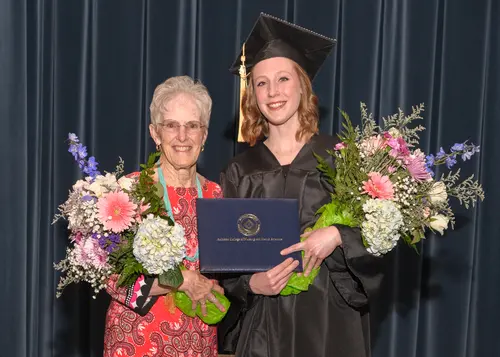 Aultman College's May 12th graduation was one for the history books as the 1,000th graduates from past and present met.
Kayla Hollinger of North Lawrence learned shortly before the ceremony that she would be the 1,000th graduate of Aultman College. When she crossed the stage to receive her associate of science in nursing degree, Dr. Brock Reiman, vice president of academic affairs, paused to recognize Hollinger and invite another guest up to the stage: Carolyn Sue (Bush) Beck, the 1,000th graduate of the Aultman Hospital School of Nursing.
Beck is a Paris, Ohio, resident and graduated in 1958 with her nursing certificate. The Aultman Hospital School of Nursing was the predecessor of Aultman College, which was incorporated in 2004.
Hollinger and Beck posed for a photo and were presented with bouquets to a round of applause.