Aultman College and Stark State College have signed an articulation agreement to make it easier for students to complete their bachelor's degree in social work.
As part of the agreement, students in the associate of applied science in human and social services program and the chemical dependency major at Stark State College can receive up to 62 credit hours toward a bachelor's degree in social work at Aultman College. This agreement is formalizing the credit that Aultman College will award for successful completion of specific courses at Stark State College.
"This agreement will facilitate a clearer pathway for students desiring to enter the social work program at Aultman College," said Dr. Brock Reiman, vice president of academic affairs at Aultman College. "Most of our students come in with some type of transfer credit, so it's important that we form partnerships to help these students receive as much credit as possible for their prior learning."
"By providing students the opportunity to complete their associate degree at Stark State College and continue their education in social work at Aultman College, we are able to help students succeed by maximizing transferability, reducing cost and supporting their career goals," said Dr. Lada Gibson-Shreve, SSC provost and chief academic officer.
To learn more about the Aultman College social work program, visit www.aultmancollege.edu/bachelor-of-social-work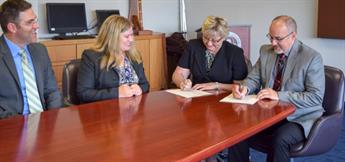 Aultman Collee and Stark State College officials sign the articulation agreement for the bachelor's degree in social work. Left to right: Ron Davis, MSW, director of social work at Aultman College; Shari Shiepis, chair of the department of human and justice studies at Stark State; Dr. Lada Gibson-Shreve, provost and chief academic officer at Stark State; and Dr. Brock Reiman, vice president of academic affairs at Aultman College