Colleen C. Duchon, MLIS
Academic Librarian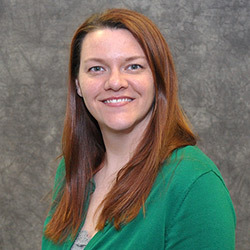 Colleen C. Duchon, MLIS
Academic Librarian
330-363-3471 - colleen.duchon@aultmancollege.edu

BA, Youngstown State University
MLIS, Kent State University
Colleen joined Aultman College in 2016 as the Academic Librarian. Her primary focus in on teaching students the importance of finding, evaluating and ethically using information in the research process. She greatly enjoys classroom instruction and strives to meet the needs of the students, faculty and administration of the college by providing quality library resources and services. Colleen strongly believes that reaching students at their point of need is instrumental in their success and encourages return library users.
Colleen thinks that the library has a wonderful opportunity to assist students throughout their entire college career, and more importantly throughout their careers, as the need for information is a lifelong endeavor. I get to watch a student progress from their very first semester to walking across the stage at commencement. I love that I get to play a role in helping student's accomplish their goals of graduating in such a noble field of study.
Colleen earned a BA in History before completing her Master's degree in Library and Information Science. While not working, she enjoys reading (of course) and loves spending time with her husband, daughter, family and friends.