Cynthia Miller, BS, RT(R)(M)
Instructor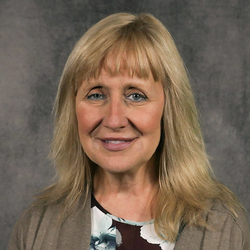 Cynthia Miller, BS, RT(R)(M)
Instructor
330-363-6118 - [email protected]
AS, Cuyahoga Community College
BS, Kent State University
Cynthia Miller began working at Aultman College in July of 2019. She teaches radiography courses and labs, as well as clinical instruction for students enrolled in the Radiography Associate Program. Cynthia earned her Bachelor of Science Degree from Kent State University, in Kent, Ohio, where she majored in Integrated Health and Business Administration with a minor in Management.
Cynthia began her career in radiography at the Cleveland Clinic in 1980, working in general radiology, and transitioned to Imaging Specialist in mammography, performing biopsies and special procedures alongside the radiologists. Cynthia was recruited to Lead Technologist and then Clinical Manager of Mammography. Cynthia served on many committees. She is most passionate about The Patient Experience, Safety Committee, and Time to Treat, which looks at ways to reduce the time a cancer patient must wait for treatment. Cynthia also served on the Right of Review committee, a committee that reviews adherence to hospital policy.
Cynthia has worked as a Clinical Instructor in imaging throughout her career, presented courses for continuing education, spoke at orientation for new radiology recruits and worked closely with department heads to increase "employee satisfaction".
Cynthia is passionate about teaching students in radiography. She is eager to share her positive experiences and passion for "imaging" with students, in hopes of guiding them to fulfilling, professional careers and a lifetime of continued learning. Cynthia knows Aultman College's emphasis on core abilities, unique curriculum, and affiliation with an exceptional hospital system is the perfect teaching environment for her.
Cynthia emphasizes that every patient entering the hospital needs some type of imaging, and radiologic technologists will touch so many lives of those in the community. You can really make a difference.
When not at Aultman, Cynthia enjoys spending time with her husband (Ron), children, increasing number of grandchildren, friends, and her rescue dog, Pippa. She enjoys yoga, walking, reading, boating, cooking, eating out, shopping, and delving (a little) into quantum physics.