Jeannine Shambaugh, MBA
Vice President, Business and Student Affairs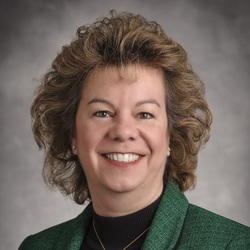 Jeannine Shambaugh, MBA
Vice President, Business and Student Affairs
330-363-5420 - [email protected]
BA, Bowling Green State University
MBA, Ashland University
Jeannine Shambaugh has been part of the Aultman team for over 30 years. She began her career in 1986 and has held a variety of management positions including Director of Management Development, Director of Physician Billing and Human Resources Director. In 2002, Jeannine joined Aultman College and played an integral part in developing a vibrant health sciences focused educational institution "from the ground up". In her current role as the Vice President of Business and Student Affairs, Jeannine has responsibility for administrative services, marketing & recruitment, financial aid, the college campus, financials, and human resources. Jeannine graduated from Bowling Green State University with a Bachelor of Science in Business Administration and received her Masters of Business Administration from Ashland University.
Ms. Shambaugh has served on various committees and Boards throughout the community and is currently an active member of the Ohio Association of Collegiate Registrars and Admissions Officers (OACRAO) where she holds the position of Past President. She is also a Past President for the Rotary Club of North Canton where she is a member of the Board of Directors.
In her spare time, Jeannine enjoys cooking, reading, playing with her dog Gabi, and spending time with her daughter, Kylie.