Marna Revlock, MSN, RN
Assistant Professor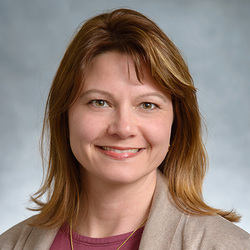 Marna Revlock, MSN, RN
Assistant Professor
330-363-1178 - marna.revlock@aultmancollege.edu
BSN, Franciscan University of Steubenville
MSN, Kent State University
Marna graduated with her BSN from Franciscan University of Steubenville in 1993. Her interest in nursing education began while working as the STD and HIV educator for Canton City Health Department. Through that role, she found that she loved to inspire others about improving their health, and educating others made her job very fulfilling. Eventually, she began to work as an adjunct instructor for Aultman College of Nursing (2009). Watching the interaction of other faculty members and students inspired her to return to school for her MSN in nursing education (Kent State University). Marna is thrilled to have joined Aultman College because she loves the students and faculty. Additionally, her personal philosophy of care is aligned with the Aultman philosophy. Aultman is a facility that inspires their nurses to give the best care possible through their Magnet status and continuing education. She can honestly say that she is a better nurse because of Aultman.
Marna's years of experience include long term care, community health, rehabilitation, transitional care, school nursing, hospice, med-surg and serving as an adjunct instructor. She has been a nurse for almost 25 years.
Outside of nursing, Marna loves to read, learn, and stay active. She has been married for 20 years, and has 2 teenagers.