Ronald Davis, MSW
Associate Professor
Program Director-Social Work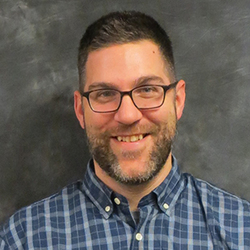 Ronald Davis, MSW
Associate Professor
Program Director-Social Work
330-363-4287 - Ron.Davis@aultmancollege.edu
BSW, Youngstown State University
MSW, University of Akron
Ron has been practicing social work since 2004. He received his bachelor's degree in social work (BSW) from Youngstown State University in 2003 -- where he served as Vice President of the Student Social Work Association -- and his masters of social work (MSW) from the University of Akron in 2004. He has practiced social work in multiple settings including hospital social work in the Cleveland Clinic for 10 years. His areas of specialization include trauma, OB, oncology, palliative care, transplant, orthopedics, and ICU/MICU. Additionally, he has served as Director for Social Support Services at Crossroads Hospice and Palliative Care; specializing in social work services, chaplaincy, bereavement, and volunteering services for patients and family members at end of life and during bereavement.
Ron has been teaching undergraduate social work courses with the University of Akron since 2007, specializing in Social Work Practice, Human Behavior, and the Social Environment, and Social Policy courses. Additionally, Ron has taught classes live, online and via a hybrid format.
In his spare time, Ron enjoys physical fitness activities such as weight lifting, cardio work, and playing sports with his two sons, and traveling to new places with his wife. He is an independent fitness coach and teaches classes at fitness centers near his home. Additionally, he is a member of the Board of Trustees of the Grief Care Place in Stow, which provides grief services and groups to various individuals in the Portage and Summit counties area.