Health Care Simulation Technology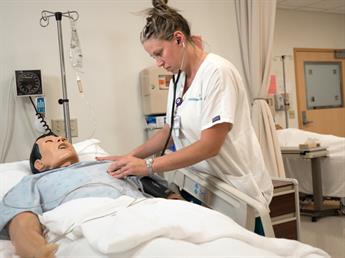 Aultman College offers two simulation labs equipped with state-of-the-art simulation technology. Our simulation labs provide collaborative learning opportunities for nursing, radiography and health science students to learn, practice and assess their skills in a hands-on environment.
In our simulation labs, students are able to interact with simulated patients who actually mimic the real patient experience. These patients have the ability to blink, talk and breathe while students can assess their heart beat, breath sounds, pulses and determine their plan of action. These patients are computer-controlled by the simulation staff so students get valuable experience responding to a range of real-life situations.
Contact Aultman College to schedule a campus visit.
Click on the video above to see an example of Aultman College simulation technology!