Article posted on July 13, 2022, in Crain's Cleveland Business
To read the actual article, CLICK HERE.
Written by: LYDIA COUTRÉ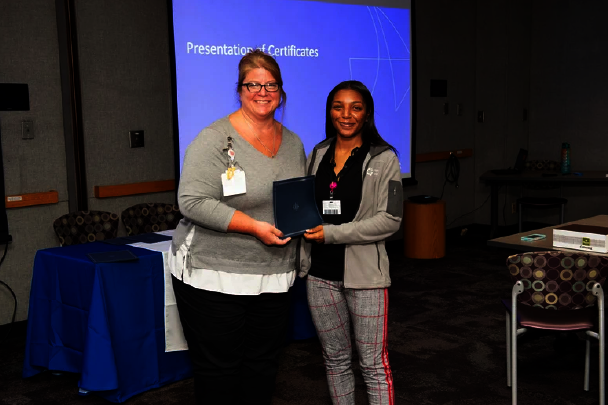 Faced with ongoing staffing challenges, Summa Health is taking a new approach to investing in the education of future health care workers.

The system partnered with Aultman College of Nursing and Health Sciences this spring to pay for 100% of tuition, as well as fees, for students participating in its new Summa Smart Start Program. But instead of through a traditional reimbursement model, Summa paid tuition upfront, removing what is, for some, a substantial barrier.

"This program is different because it meets the student where they are," said Tony Colly, Summa's senior vice president and chief human resource officer.

For those already pursuing a degree and able to take advantage of the tuition reimbursement program, that's a good benefit that supports a lot of people, he said.
"But this is just looking at it from a different lens and approaching it from what are your needs. You know, what are your barriers?" Colly said. "And how can Summa be a partner with you, get you introduced to the health care careers, and then help you get employed and stay employed?"
A cohort entered each of the two Aultman program tracks (medical assistant and phlebotomy) in the spring. In June, Summa partnered with Stark State College to expand Smart Start, launching five more programs: associate RN, licensed practical nurse (LPN), respiratory therapist, surgical technician and another medical assistant program.

Through the Stark State partnership, Summa subsidizes full-time students by paying for half of their school tuition or providing $2,000 toward living expenses, such as childcare.
After graduation, program participants are connected with a job in their 􀀁eld to full-time a two-year work commitment at Summa Health.

Kelly Reinsel, dean of health and public services at Stark State, said the college and Summa will work together to ensure students have everything they need to be supported through their education, whether that's tutoring or extra lab time.

"We're going to work together to make sure that that happens," Reinsel said. "I think the ability to have your education paid for, and then also a job guaranteed, is really a benefit."

During the program, students also work a few hours a month at Summa in support jobs to get them acquainted with and connected to the system. In that sense, the education almost doubles as an orientation, said Theresa Benzel, dean of foundational education and health professions at Aultman College.

Once students have learned the system, the atmosphere of the workplace and who the employer is, "if it's a good 􀀁t, nine times out of 10, that employer says, 'Hey, I want you because you already understand the process, you understand who we are,'" Benzel said. That makes onboarding and orientation easier, and it helps employees know the organization they're joining and, ideally, makes them more likely to stay, she said.

Summa had around 400 job openings in 2019, but that has more than doubled, with nursing being one of the hardest hit areas, Colly said.
"For a fairly consistent amount of time for the past couple of years, we've ran around 1,000 openings, give or take," he said.

Health care sta􀀂ng challenges long predated COVID-19, with regional and national forecasts projecting shortages over the years in different fields, nursing in particular.
"My opinion is it was kind of exasperated by COVID," Colly said.

Nearly every industry is feeling sta􀀂ng challenges, he said, but some industries "have been hit a little harder" than others, including hospitals and the service industry, which also makes up part of the workforce in a health system.

In addition to Stark State and Aultman, Summa Smart Start has partnered with the Akron Urban League, which will work to refer potential candidates to the program. The goal is to build the program in a way that is flexible and responsive to needs, Colly said, noting that the system is open to other partners.

For the year, Summa has budgeted between $400,000 and $500,000 for Summa Smart Start — funds that are in addition to its tuition reimbursement dollars.
While it is an important tool for many, tuition reimbursement may not be a realistic option for others, Benzel said. For some of the entry-level positions that health care systems need 􀀁lled, it can even be a barrier for students to pay for a registration fee or testing fee to see if they can even get into a program, she said.

"Summa kind of realized that I think, and with removing that barrier completely, they're now pulling in students and potential employees that are going to be lifelong employees for them," she said. "But they just needed that help in the beginning to get them in and to get come through the door to get the education. So, it's just removing one of the biggest barriers that we all see — it's the financial barrier."

Aarion Decatur first learned about the program from her supervisor when she was working as an environmental aide at Summa Health System-St. Thomas Campus.
She'd always been interested in working in the lab, so she enrolled in the phlebotomy program. Having it fully funded was key. She wouldn't have been able to pay for the program out-of-pocket and then wait to get reimbursed later.

As a single mom of three kids, Decatur said it was hard to find somewhere where she could work full-time to support her family and still go to school.

"There was no other program that offered me that," she said.
In June, Summa hosted a combined graduation ceremony and employee orientation for the first cohort of phlebotomy students, including Decater, who started the very next day.
She likes her new job even more than she thought she would, and the night shift is proving beneficial for childcare.

To anyone considering applying to the program, Decatur says "go for it."

"Why wouldn't your employer want to work with you to continue your education and then give you a job afterwards?" she said. "It's like a win-win situation."