Why Aultman College
Aultman College stands out as the only health care system affiliated college in Northeast Ohio. For more than 120 years, we have prepared students to become successful practitioners and leaders in the health care field.
Why should you attend Aultman College?
Student Centered. Health Care Focused.
More than 80 percent of classes at Aultman College have fewer than 20 students. You know your classmates, and the professor knows you by name. Aultman College is truly student-centered.
Challenging Curriculum to Prepare You
Aultman College students will tell you that yes, their classes are difficult and demanding – but that is exactly what they need because they graduate being prepared for and confident in their future careers. With high job placement and licensure exam passage rates, an Aultman College education will set you up for success.
Expert Faculty-Practitioners
Health care faculty members have an average of 20 years of clinical experience and are actively involved in the Aultman Hospital system. These are the people you want to learn from when lives will depend on your knowledge and abilities.
Career-Focused Education
If you want a career in health care, there is no better place to go than Aultman College. Thanks to our location on the Aultman Hospital campus, our students are immersed in a health care environment from day one. Many begin working with patients as early as their first semester, so you can start doing what you love earlier in your college career.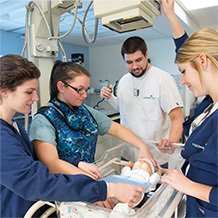 Ready to get started?