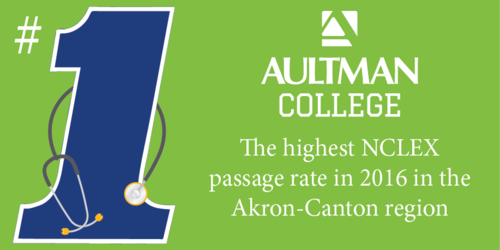 AULTMAN COLLEGE HAS HIGHEST NURSING EXAM PASSAGE RATE IN THE REGION
Among the nursing programs at colleges and universities in the Akron-Canton region, Aultman College had the highest institutional passage rate on the National Council Licensure Examination (NCLEX).
In 2016, 96.72 percent of the first-time test takers from Aultman College passed the NCLEX, which is the nationwide exam for the licensing of nurses. These are students who graduated from the college's Associate of Science in Nursing (ASN) program and took the test for the first time in 2016.
In addition to being the highest in the region, Aultman College's rate was well above the Ohio passage rate of 81.12% percent and the national passage rate of 84.56% percent.
"Our passage rate is higher than that of nursing programs that are several times our size, speaking to the quality of our graduates and the instruction and preparation they receive here at Aultman College," said Jo Ann Donnenwirth, Ed.D.(c), MSN, dean of nursing and allied health. "Our associate's degree in nursing program has a tradition of excellence, one that will be carried on by our bachelor's degree program that is beginning this fall."
For more information about nursing degrees at Aultman College, visit http://www.aultmancollege.edu/nursing.