Associate of Applied Science in Radiography Program
Graduates of Aultman College's 65-hour Associate of Applied Science in Radiography (AASR) program are prepared to sit for the National Certification Examination administered by the American Registry of Radiologic Technologists (ARRT). Once they are certified, AASR graduates are eligible for employment in hospitals, clinics or physician offices as registered radiologic technologists RT(R).
Aultman College's Associate Degree in Radiography follows a step-by-step curriculum with required radiography courses available during select semesters.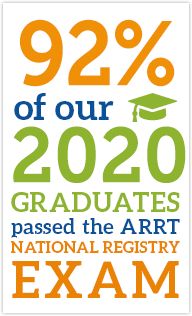 Program Effectiveness Data
To view Aultman College's radiography program effectiveness data, please
click here
.
Admission Criteria
To be considered for the Associate of Applied Science in Radiography program:
First time attending college
GPA of 3.0+
OR
GED score of 660+
HiSET score of 75+
ACT score of 20+
OR
SAT combined score of 1030+
OR
ACCUPLACER Next Gen scores: Reading 250+ and Quantitative Reasoning, Algebra and Statistics 263+
College transfer applicants
6+ Credit Hours
of coursework based on the most recent college transcript
If you meet these criteria, you are eligible to be considered for admission to the Radiography Program upon completion of all application requirements. Selection of applicants is based on this AASR ranking criteria.
Transfer Credits
Aultman College will evaluate each applicant's earned credits from all official post-secondary transcripts to ensure that the earned credits meet an 80% content match and are consistent with Aultman College's course levels. If the earned credits are consistent with the Aultman College course requirements, they will be reviewed on an individual basis. See the transfer credit policy for more details.
Residency and Graduation Requirements
In order to graduate with a radiography degree from Aultman College, 41 credit hours must be completed at Aultman College.
Students entering the program have the following requirements:
A minimum of 65 credit hours
30 general education credit hours
35 radiography credit hours
Residency course requirements
Clinical competency requirements
Clinical Rotations
Students will rotate through various clinical sites throughout the course of the program. Students are responsible for their own transportation to and from their clinical assignments.
AULTMAN HEALTH FOUNDATION
2600 Sixth Street S.W.
Canton, Ohio 44710
(330) 363-3520
AULTMAN WEST(Will be now known as Aultman Massillon effective Friday, November 1, 2019)
2021 Wales Ave. NW
Massillon, Ohio 44646
(330) 834-1111
AULTMAN NORTH/AULTMANNOW-AULTMAN NORTH
6100 Whipple Ave. NW
North Canton, Ohio 44720
(330) 305-6999
AULTMANNOW/LOUISVILLE
506 West Main St.
Louisville, Ohio 44641
(234) 252-9181
AULTMANNOW/WASHINGTON SQUARE
2203 East Maple Street
North Canton, Ohio 44720
(330) 363-8680
AULTMAN PAIN MANAGEMENT
2051 Wales Ave. NW
Massillon, Ohio 44646
(330) 834-4154
AULTMAN ORRVILLE
832 South Main St.
Orrville, Ohio 44667
(330) 684-4750
AULTMAN TUSCARAWAS REGIONAL HEALTH
603 Monroe Street
Dover, Ohio 44662
(330) 343-7505
AULTMAN CARROLLTON
1020 Trump Road
Carrollton, Ohio 44615
(330) 627-0091
AKRON CHILDREN'S HOSPITAL
One Perkins Square
Akron, Ohio 44308
(330) 543-8300
AKRON CHILDREN'S HOSPITAL OF MAHONING VALLEY
6505 Market Street
Boardman, Ohio 44512
(330) 746-9300
CHILDREN'S HOSPITAL MEDICAL CENTER OF AKRON NORTH CANTON CAMPUS
North Canton Specialty Care
6076 Whipple Ave. NW
North Canton, Ohio 44720
(330) 433-1777
ALLIANCE COMMUNITY HOSPITAL
200 East Street
Alliance, Ohio 44601
(330) 596-7700
OMNI Orthopaedics
4760 Belpar Street NW
Canton, Ohio 44718
(330) 492-9200
POMERENE HOSPITAL
981 Wooster Road
Millersburg, Ohio 44654
330-674-1015
TRINITY HOSPITAL TWIN CITY
819 N. First Street
Dennison, Ohio 44621
740-922-2800
Aultman College Health Insurance Requirement
Aultman College requires all radiography students to have health insurance, as good health is essential to academic success. It is mandatory that all radiography students who do not have health insurance purchase their own policy.
Additional Radiography Program Resources
Please review the following resources for more information about the radiography program:
Mission Statement
The mission of the Associate Degree in Radiography Program is committed to providing quality education to prepare students as entry-level radiographers. The radiography degree program advocates lifelong learning and professional growth so that the graduates will continue to positively impact the community.
Philosophy
The philosophy of the Associate Degree in Radiography program is to prepare graduates who are competent in the art and science of radiography. The graduate of this program receives an Associate of Applied Science in Radiography and is prepared to sit for the National Certification Examination administered by the American Registry of Radiologic Technologists (ARRT).
The primary responsibility of the program is to guide students in achieving educational goals. A comprehensive curriculum is provided that consists of a broad base of knowledge and diverse clinical experiences. The curriculum provides opportunities for students to develop skills in conceptual understanding, analytical judgment, critical thinking, and the ability to problem solve in the performance of radiologic procedures.
Students are encouraged to identify individual learning styles and develop study methods that permit the acquisition and retention of knowledge and concepts. Principles of ethics are demonstrated that build character and professional attributes. Clinical skills are developed that instill appropriate attitudes and foster affective growth in providing care and responding to patient needs during imaging procedures.
The radiography program is designed to encourage success and develop lifelong learning patterns. The program has specific learning objectives and outcomes, contained in the course outlines and syllabi that articulate the educational achievements to be accomplished.
Program Goals
The goals of the program are to make sure that the following are met:
Students will demonstrate competence in the essential skills of medical imaging and treatment.
Students will communicate effectively and professionally in the medical environment.
Students will demonstrate critical thinking, problem-solving skills, and life-long learning.
Students will demonstrate professional values and ethical behaviors.
Graduates will function as a competent, entry-level professional that meets the health care needs of the community.
Student Learning Outcomes
Students will apply positioning skills.
Students will select appropriate technical factors.
Students will practice radiation protection.
Students will use effective oral communication skills in clinical environment.
Students will practice written communication skills.
Students will manipulate technical factors for non-routine examinations.
Students will adapt positioning for trauma patients.
Students will determine the importance of continued professional development.
Students will understand appropriate ethical decisions.
Graduates will pass the ARRT national certification on the 1st attempt.
Graduates will be gainfully employed within 12 months post-graduation.
Students who enroll will complete the program.
Graduates will be satisfied with their education.
Employers will be satisfied with the performance of newly hired radiographers.
Performance Standard
Aultman College is committed to the policy that all persons shall have equal access to its programs, facilities, and employment without regard to race, color, creed, religion, national origin, sex, age, marital status, disability, public assistance status, veteran status, or sexual orientation.
Performance standards are universal within all nursing and allied health programs at Aultman College. Performance standards require students to be in good physical and mental health. In order to provide safe and effective care, the student must be able to demonstrate, with or without reasonable accommodation, physical, cognitive, and behavioral abilities required for satisfactory completion of all aspects of the program curriculum.
Please read carefully Aultman College's performance standards. Refer to the Student Success Center Coordinator for accommodation advice.
Radiography specific=R
Functional Ability

Performance Standards

Examples

Gross Motor Skills

Gross motor skills sufficient to provide the full range of safe and effective patient care activities

• Exhibit sufficient manual dexterity to perform procedures

• Raise objects from a low to high position, push, pull or transfer heavy objects between 25 and 50 or more lbs., walk for a prolonged period of time carrying up to 25lbs

• Physical endurance

• Move within confined spaces, such as exam room or operating suite

• Demonstrate the ability to wear a 10 lb. lead apron for extended periods of time (R)

• Assist in turning and lifting patients

• Perform CPR

Fine Motor Skills

Fine motor skills sufficient to perform manual psychomotor skills

• Demonstrate the ability to apply gloves, goggles, masks, and gowns

• Pick up and grasp small objects with fingers

Cognitive Abilities

Mathematical and critical thinking abilities to solve problems

• Complete appropriate dosage calculations given specific patient parameters

• Analyze and synthesize data to develop appropriate care

• Collect data, prioritize needs, and anticipate reactions

• Demonstrate the ability to anticipate the next step in the clinical environment (critical thinking)

Communication

• Ability to speak, read, and write

• Use English language effectively

• Communicate clearly in interactions with others

(verbally/non-verbally)

• Computer literate

• Accurately document patient histories

• Accurately document appropriate information

• Ability to effectively communicate with other healthcare providers

• Convey information to patients and others to teach, direct, and counsel individuals in an accurate, timely manner

• Educate patients about various healthcare procedures

• Demonstrate ability to use proper punctuation, grammar, spelling; work is neat and legible

• Demonstrate the ability to assimilate information from written sources (e.g., texts, journals, medical report, etc.)

Hearing

Use auditory sense

• Hear patient when obtaining information from the patient

• Hear faint or muffled sounds from a distance (e.g., during a surgical case while wearing a mask)

• Hear auditory alarms (call light, fire alarms, overhead pages, patient monitoring devices, etc.)

• Hear patient's verbal call for help

Visual

Normal or corrected visual ability sufficient for accurate observation and performance of patient care

• See objects up to 20 feet away

• Assess skin color

• Visual acuity to read calibrations on a syringe

• Ability to visualize radiographic images and evaluate differences in shades of gray on radiographic images (R)

• Sense changes in patient condition in order to gather objective and evaluative information

Tactile

Tactile ability sufficient to gather physical assessment information

• Palpate bony landmarks

• Feel vibrations (pulses)

• Detect temperature changes

• Palpate veins for IV insertion

• Manipulate syringes

Self-Care

Maintain general good health and self-care

• Maintain hygiene

• Demonstrate safety habits and work area neatness

Affective Learning Skills (Behavioral and Social Attitudes)

• Demonstrate appropriate behaviors and attitude

• Acknowledge and respect individual values and opinions

• Demonstrate ability to sustain the mental and emotional rigors of a healthcare environment

• Exhibit professional behavior in the clinical environment

• Open to constructive criticism

• Listen actively

• Adopt modifications in behavior
Program Assessment
The radiography program is committed to its mission and to continuous improvement of its programs and services.
Assessment is the ongoing process of evaluating student academic achievements. Students, faculty, staff, and external constituencies are asked to participate in assessment and institutional effectiveness activities that may include but are not limited to, examination, performance assessments, questionnaires, surveys, focus groups, interviews, learning journals, portfolios, case studies, comprehensive exams, and follow-up studies.
Program Accreditation
The Associate of Applied Science in Radiography (AASR) program is accredited by the Joint Review Committee on Education in Radiologic Technology (JRCERT), which in 2018 awarded full 8-year accreditation. The next visit is scheduled for 2026.
The Joint Review Committee on Education in Radiologic Technology
20 North Wacker Drive, Suite 2850
Chicago, Illinois 60606-3182
312-704-5300
[email protected]
www.jrcert.org
Click here to review the Associate of Applied Science in Radiography curriculum plan.
APPLICATION DEADLINES FOR AASR PROGRAM:
February 1st for fall semester