Associate of Science in Nursing (ASN) Program
The associate of science in nursing (ASN) program is a five-semester program for students who want an entry-level career in nursing. Once completed, an ASN prepares students to take the NCLEX (National Council of Licensure Exam) and be credentialed to become a registered nurse (RN).
Aultman College's ASN program provides hands-on experience and is designed to be completed in five semesters. Students are accepted in the spring semester.
What can you do with an ASN Degree?
With an ASN degree, students can enter the workforce and begin their career as a registered nurse (RN) in a variety of settings.
Or, students may choose to further their education. The curriculum design of Aultman College's ASN program also provides for progression to our Bachelor of Science in Nursing Completion program, or BSN-C. The BSN-C degree allows students to broaden their career opportunities and further their education to become a nurse anesthetist, nurse practitioner, nurse leader, or nurse educator.
What is an ASN nurse?
An ASN nurse is a nurse who has an associate degree in nursing. You can become an ASN nurse by completing the ASN nursing program and receiving your Associate of Science in Nursing degree from Aultman College.
Nurses with an ASN have a wide variety of employment opportunities to choose from, including:
Doctor's offices
Hospitals
Insurance carriers
Outpatient facilities
Home health
Patient advocate
Higher education
Specialty hospitals
Plus, an ASN is a required first step for completing a Bachelor of Science in nursing (BSN). Many employers are seeking nurses with a BSN degree.
Don't miss the admission deadline for

the ASN Program

Apply Now
100% of Aultman College ASN graduates found job placement within one year upon graduation
Get Started
ASN Program Admission Requirements
Students attending college as degree-seeking for the first time must have:
A high school GPA of 3.00 or higher OR A GED score of 660+ HiSET score of 75+ (pre-2016 GED score: 2250)
AND
An ACT score of 20+/SAT combined score of 1030+ (pre-2016 SAT score: 950) or ACCUPLACER Next Gen scores: Reading Comprehension of 250+ and a Quantitative Reasoning, Algebra and Statistics Score of 263+
AND
A TEAS (Test of Essential Academic Skills) score of 58.7% or higher composite score and 58.7% or higher on each of the four sections: reading, mathematics, science, and English
ASN program transfer applicants must have:
Six (6) or more credit hours of college coursework and a 2.70+ GPA based on the most recent college transcript
ASN Program Limits
There are a limited number of seats available for the ASN program. These seats will be awarded to accepted students based on the order of the date that reservation paperwork and fees are received. In other words, the sooner you are accepted and complete the RSVP process, the higher up the list you will be.
ASN Degree Transfer Credits
Aultman College evaluates each ASN program applicant's earned credits from all official post-secondary transcripts. Credits are awarded based on course requirements and an 80% content match. See the transfer credit policy for more details.
ASN Program Curriculum
ASN Program Graduation/Residency Requirements
Students in the ASN program must meet specific graduation requirements.
Prior to graduation, students must:
Satisfy all ASN program curriculum requirements
Meet the residency requirement: 41 credit hours of the required 73 total must be completed at Aultman College
Take a standardized NCLEX review course offered by the program
Complete financial aid exit counseling
Satisfy financial obligations
Complete the Graduate Exit Survey
Return the ID badge and any applicable course equipment, library books, and ASN program-specific supplies
ASN Nursing Clinical Rotations
As part of Aultman College's ASN program, students must complete a set number of clinical hours under the direct guidance of Aultman College faculty in a variety of settings.
ASN Nursing Resources
Interested in learning more? Review the following resources for more information about the ASN program's framework and objectives:
ASN Nursing Licensure Information
The following resources provide further details on nursing licensing and renewal:
ASN Program Accreditation and Program Effectiveness Data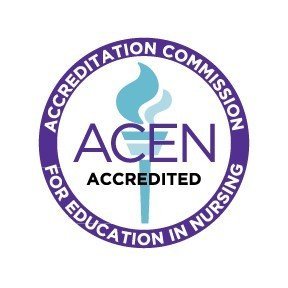 ACEN, Accreditation Commission for Education in Nursing
The ASN program at Aultman College of Nursing and Health Sciences at the Aultman campus located at 2600 6th Street SW Canton, Ohio 44710 is accredited by the Accreditation Commission for Education in Nursing (ACEN).
ACEN
3390 Peachtree Road NE, Suite 1400 Atlanta, GA 30326
(404) 975-5000
The most recent accreditation decision made by the ACEN Board of Commissioners for the associate of nursing program is continuing accreditation.
ASN Program Effectiveness Data
Download a PDF of the ASN Program Effectiveness Data in table format.
ELA: Expected Level of Achievement
Program Completion Rate: Percentage of students who graduate within a defined period of time defined by ACEN as no more than 150% of the program length of five semesters. ELA is greater than or equal to that of the previous year.
Timeframe

Total # Students Entering

Total Student Program Completion within 150%

(7 semesters)

Graduation Rate Percentage Overall

(Includes attrition)

2015-2016

89

25.8%

48.3%

2016-2017

106

34.0%

59.4%

2017-2018

49

34.7%

44.8%

The low numbers represent inclusion of attrition, often for competing priorities and lack of financial resources. The numbers also represent that while we are designated as a full time program, students have historically completed at a part-time rate.


Note that Aultman College did not accept any new ASN students during the 2018-2019 time period.

NCLEX Results: ELA at or above the national rate (assessment cycle January 1 to December 31)

Year

Aultman

Ohio

National

2018

98.44%

86.88%

88.30%

2019

94.37%

86.25%

88.18%

2020

100.00%

84.41%

86.58%

Job Placement Rates: ELA 80% employment within 12 months of graduation

Graduating Class (n=#survey responders)

*% Attempted NCLEX & Employed

2016-2017 (n=19)

100.0%

2017-2018 (n=14)

100.0%

2018-2019 (n=12)

100.0%

*Percent of One-Year Alumni Survey responders employed within twelve months of graduation
Admission Deadlines for the ASN Program
December 1: The admission deadline for Aultman College's ASN program is December 1 for the spring semester.
Frequently Asked Questions about the ASN Degree & Program
What is an ASN in nursing?
"ASN" is a type of nursing degree. It stands for Associate of Science in Nursing. Many nurses obtain an ASN degree as their first step to becoming a registered nurse or health care provider.
Is an ASN the same as an RN?
An ASN and RN are not the same. ASN is a type of nursing degree, while an RN stands for "registered nurse." To become and RN, you will need an ASN—or BSN, Bachelor of Science in Nursing—pass the NCLEX-RN, and become licensed in your state.
What type of nurse is ASN?
When you get an Associate of Science in Nursing degree, there are numerous paths you can take that will lead to either clinical, bedside care or alternative nursing careers. Explore a variety of options in our blog post, "What can you do with a nursing degree?"
ASN vs. LPN: What is the difference?
An ASN degree program takes about two years of study and prepares students to become registered nurses. On the other hand, a licensed practical nursing (LPN) certificate takes about a year. LPNs work under the supervision of RNs or physicians.