32 Careers You Can Have with a Nursing Degree
When students decide to go to college for a nursing degree, the obvious settings for their careers come to mind: hospitals, nursing homes, emergency departments, and so on. But what about those students asking, "What can you do with a nursing degree if you don't want to be a nurse?" Or current nursing professionals looking for a career change and asking, "What else can I do with my nursing degree?"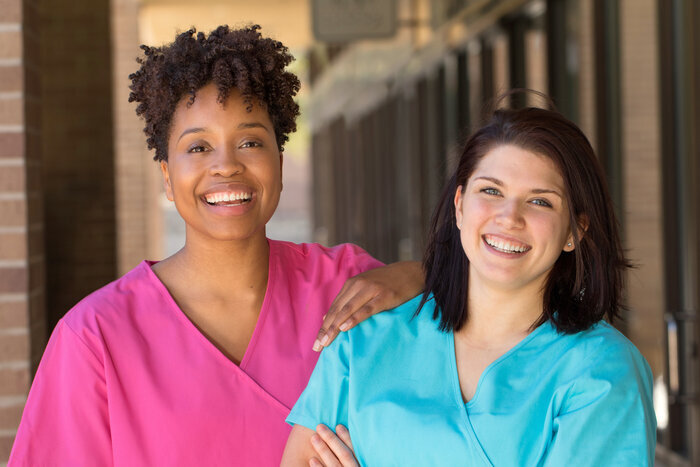 Thankfully, there are options for every student's journey. There are numerous paths you can take that will lead to either clinical, bedside care or alternative nursing careers. Some of these paths may require higher-level degrees, specific certifications, or certain experience in clinical care.
Once you have either an Associate of Science in Nursing or a Bachelor of Science in Nursing, registered nurse (RN) credentials, and any related requirements, you're free to explore the incredible variety of options for your nursing career. In fact, you may be able to combine your nursing degree with one of your not-so-unrelated passions, such as criminal justice reform or working with children.
Let's explore 32 careers you can pursue with a nursing degree.
Advanced Practice Registered Nurse (APRN)
An advanced practice registered nurse's duties are partially described in the job title. These specialized nurses provide more advanced care for patients and may prescribe medications. The four types of APRNs are nurse practitioner (NP), certified nurse midwife (CNM), clinical nurse specialist (CNS), and certified registered nurse anesthetist (CRN).
Advanced Practice Registered Nurse Salary
Salary Range: $98,000 – $127,500
Average Salary: $117,770
Army Nurse
Joining the United States Army Nurse Corps is a great way to serve the country while expanding your career as a registered nurse. You can be part of any military branch and serve within the U.S. or in other countries during conflicts or natural disasters.
Army Nurse Salary
Salary range: $40,000 – $82,500
Average salary: $64,600
Blood Bank Nurse
People are often encouraged to donate blood and even plasma at blood drive events and donation centers. These organizations are in need of nurses to draw and test the blood or plasma. If you decide to go this route, you may also find yourself doing outreach to get more people participating in these lifesaving processes.
Blood Bank Nurse Salary
Salary range: $39,500 – $83,500
Average salary: $64,800
Camp Nurse
Do you miss your childhood years at summer camp? Or enjoy the comradery of adult-based camps? When you become a camp nurse, you'll care for staff and campers. This can include emergencies, health concerns, and medication administration. With camps across the country, you can relocate for some summer fun.
Camp Nurse Salary
Salary range: $37,500 – $53,000
Average salary: $47,600
Critical Care Nurse
Critical care nurse duties are very similar to ER nurses and trauma nurses. They care for patients in the ICU who are suffering from serious injuries and critical illnesses.
Critical Care Nurse Salary
Salary Range: $65,500 – $96,500
Average Salary: $81,000
Cruise Ship Nurse
Take your nursing career to the seven seas and beyond by becoming a cruise ship nurse. You'll work alongside the ship's medical crew to treat passengers and staff. This is a unique path in continuing your career while traveling the world, proving that you can work anywhere with a nursing degree.
Cruise Ship Nurse Salary
Salary range: $39,500 – 134,500
Average salary: $76,300
Environmental Health Nurse
Environmental health nurses work to identify and address environmental hazards that can affect a community, specific population, or even a particular facility. They strive to protect the health and wellbeing of those living and working in their areas through developing programs to reduce risks, providing educational materials, and advocating for improved, equitable healthcare services.
Environmental Health Nurse Salary
Salary Range: $37,500 – $53,000
Average Salary: $74,800
Family Nurse Practitioner (FNP)
FNPs provide primary care for a range of patients and their wide variety of health needs. A family nurse practitioner works with patients to diagnose them, prescribe medications and treatment, and offer preventive care.
Family Nurse Practitioner Salary
Salary Range: $91,500 – $118,500
Average Salary: $105,900
Forensic Nurse
For fans of true crime looking for a way to make an impact, becoming a forensic nurse could be the route to take. Forensic nurses care mostly for survivors of crimes such as domestic abuse or sexual assault. Not only do they tend to the physical and emotional health of these victims, but they also collect evidence and provide expert testimonies at trials.
Forensic Nurse Salary
Salary Range: $50,000 – &75,000
Average Salary: $65,000
Geriatric Nurse
As a geriatric nurse, you'll care for elderly patients and their range of physical and mental changes. This type of RN work with doctors and physicians to monitor and treat issues such as dementia, cancer, diabetes, loss of hearing, and more. Geriatric nurses can work in hospitals, senior living communities, or the homes of patients.
Geriatric Nurse Salary
Salary Range: $56,000 – $117,500
Average Salary: $98,800
Healthcare Lobbyist
Ever wonder how healthcare laws are created? Or how certain issues receive funding? Healthcare or nurse lobbyists speak to members of Congress to educate them on health topics they care about. They work for organizations such as non-profits, insurance companies, and industry associations.
Healthcare Lobbyist Salary
Salary Range: $32,500 – $83,000
Average Salary: $62,500
Holistic Nurse Practitioner
Holistic NPs focus on a patient's entire scope of health. This includes their physical health, along with mental, emotional, spiritual, and environmental health aspects. After evaluating these pillars, they diagnose a patient and create a health plan based on their values and health beliefs. Holistic nurse practitioners tend to combine medical care with organic remedies.
Holistic Nurse Practitioner Salary
Salary Range: $81,500– $117,000
Average Salary: $99,600
Home Health Nurse
Home health nurses work with those who are chronically ill and unable to frequently leave to get care outside the home. They either work in shifts at the home or make house calls as needed. A home care nurse will develop care plans for their patients, administer medications, monitor their health, and tend to any medical needs.
Home Health Nurse Salary
Salary Range: $51,000 – $80,000
Average Salary: $68,900
Labor and Delivery Nurse
This field of nursing helps throughout the labor and delivery process. Labor and delivery nurses also assist with caring for newborns and in postnatal treatment of parents and infants. As an L&D nurse, you can work in a hospital's OB/GYN department or a private practice.
L&D Nurse Salary
Salary Range: $69,100 – $85,900
Average Salary: $75,900
Legal Nurse Consultant
Legal consultancy nurses usually work for law firms and insurance companies. They use their clinical background to gather information and records for cases, as well as prepare visual aids for trials related to accidents, workers' compensation, and medical malpractice.
Legal Nurse Consultant Salary
Salary Range: $60,000 – $100,000
Average Salary: $80,400
Managed Care Nurse
This type of RN works with patients who are elderly or underserved and/or those who have chronic or terminal illnesses. Managed care nurses provide specialized long-term care for these patients. They also work with insurance companies to keep health care costs low yet retain a high quality of care.
Managed Care Nurse Salary
Salary Range: $52,500 – $100,500
Average Salary: $81,200
Medical Journalist
If you have a passion for both nursing and writing, this could be the career for you. You'll use your clinical background combined with your communication and writing skills to investigate and report on a variety of healthcare topics. Medical journalists work for different types of platforms, such as television news, radio and podcasts, book publishing, and print news, at local, state, and national levels.
Medical Journalist Salary
Salary Range: $34,000 – $143,000
Average Salary: $91,300
Neonatal Nurse
Similar to L&D nurses, neonatal nurses work with infants. However, these nurses work with premature babies in the neonatal ICU. These babies need continuous care to recover from illness and the effects of being born prematurely. Neonatal nurses also support the families of these infants with information and updates while in the ICU.
Neonatal Nurse Salary
Salary Range: $74,000 – $127,000
Average Salary: $101,000
Nurse Case Manager
A nurse case manager often works with patients who have chronic illnesses or serious conditions. They coordinate care for their patients, while advocating for them and offering guidance related to complex medical decisions. Case managers may also help them find accessible community resources and work with their insurance providers for affordable care.
Nurse Case Manager Salary
Salary Range: $58,000 – $81,000
Average Salary: $71,000
Nurse Consultant
As a nurse consultant, you can work in a variety of settings, like clinical, legal, and operations. In this position, you'll consult on improving health care programs and standards or make recommendations for an individual patient's treatment.
Nurse Consultant Salary
Salary Range: $50,500 – $107,000
Average Salary: $79,600
Nutrition & Fitness Nurse
This type of non-traditional nursing with a focus on dietary support can be found in various settings. Health clubs, surgery recovery centers, professional sports teams, nursing homes, and schools are just a few of the businesses that need a nurse focused on a holistic approach to health through nutrition, exercise, and mental health.
Nutrition Nurse Salary
Salary Range: $39,000 – $81,500
Average Salary: $64,000
Oncology Nurse
Becoming an oncology nurse will require an oncology certified nurse credential. This type of nurse works with cancer patients who may or may not be terminally ill. They manage treatment options, such as administering chemotherapy, and organize additional medical professionals, like social workers, to provide the best care for their patients. Oncology nurses often interact with their patients' families, so having interpersonal skills like patience and empathy is key.
Oncology Nurse Salary
Salary Range: $73,500 – $93,500
Average Salary: $87,300
Pediatric Nurse
A pediatric nurse does many of the same things a general nurse does. However, they specifically care for children. Pediatric RNs are advocates for children by providing nutritional guidance, watching for signs of abuse, being knowledgeable in childhood diseases, and offering support for their growing patients.
Pediatric Nurse Salary
Salary Range: $45,500 – $68,500
Average Salary: $59,000
Physician Office Nurse
Instead of working in a hospital, this type of nurse works in a private practice. At the doctor's office, they're the patient's first point of contact. A physician office nurse checks in patients and handles insurance information and payments. They also take measurements and vitals, assess the patient for their visit and answer their questions, administer medications and vaccinations, and collect samples for a lab. This nurse may also assist the physician with minor procedures.
Physician Office Nurse Salary
Salary Range: $33,000 – $56,200
Average Salary: $56,200
Prison or Correctional Nurse
A prison nurse or correctional nurse provides the same care as a general RN but within the criminal justice system. They care for inmates and detainees with existing conditions and for those who become injured or sick.
Correctional Nurse Salary
Salary Range: $53,000 – $67,900
Average Salary: $59,400
Psychiatric Mental Health Nurse Practitioner (PMHNP) 
This niche of nursing involves caring for patients in psychiatric hospitals or clinics, general hospitals, and private practices. Their specialized training allows them to assess and care for those with mental health and behavioral conditions. This can range from adults with mild panic attacks to children who have been through traumatic events.
Psychiatric Nurse Practitioner Salary
Salary Range: $106,000 – $150,000
Average Salary: $134,700
Public Health Nurse
Public health nurses enjoy helping to improve the communities where they live. They educate the community on health issues and implement related programming. These nurses also refer people to support services in the area that can help with their specific health needs – and vice versa by bringing needed support to the community.
Public Health Nurse Salary
Salary Range: $47,000 – $92,000
Average Salary: $61,000
Research Analyst
In this position, a nurse researcher works on a variety of medical studies and industry research. They may assist in writing drug trial procedures, design related materials, and track progress and data. Research analysts tend to have a doctorate or advanced nursing degree.
Nurse Researcher Salary
Salary Range: $78,400– $97,000
Average Salary: $87,800
School Nurse
Do you want to work with kids, yet you're not interested in teaching? Become a school nurse – and get the bonus benefit of time off during holidays and the summer. School nurses not only take care of medical needs when they arise, but they also work with students who may need care during the day for a chronic illness. They may also teach students about health risks and general selfcare.
School Nurse Salary
Salary Range: $49,000 – $71,500
Average Salary: $60,700
Surgical RN
Surgical nurses fall into three main categories. The first being a scrub nurse. They set up and tear down the operating room to ensure it's sterile, and they pass instruments to physicians during surgery. A circulating nurse ensures surgical equipment is ready to go, the right patient is in the room, and their family has signed proper consent forms. They may also assist the anesthesiologist or discuss any concerns related to the patient with the surgeon. Finally, a first assistant will assess a patient before, during and after surgery. They monitor vital signs and assist the surgeon with tasks like CPR and suturing wounds.
Surgical RN Salary
Salary Range: $55,500 – $80,000
Average Salary: $70,300
Trauma Nurse
Trauma nurses work with patients who are in more critical condition than those in the ER. However, they may work in the emergency room or a critical care unit. Trauma nurses focus on stabilizing, treating, and managing the pain of patients who would die without intervention.
Trauma Nurse Salary
Salary Range: $65,500 – $106,000
Average Salary: $91,000
Travel Nurse
If you think becoming a nurse will offer you less time to travel, think again. A travel nurse takes short-term assignments from healthcare facilities across the country—and even abroad. They go to places like hospitals and long-term care facilities that are experiencing staff shortages, emergency events, or crisis situations. The work may be more high pressure, but you'll get to visit new cities, meet new people, and experience different nursing scenarios.
Travel Nurse Salary
Salary Range: $85,000 – $110,000
Average Salary: $99,200
Women's Health Nurse Practitioner
Similar to an L&D nurse, a women's health nurse can work in OB/GYN care units at hospitals or private practices. They specialize in fields related to women and those with uteruses: reproductive health, infertility, mammography, etc.
Women's Health Nurse Practitioner Salary
Salary Range: $102,600 – $117,000
Average Salary: $109,300
Get a Nursing Degree Today
Ready to start your nursing school journey toward a specialized or non-traditional career? At Aultman College, we offer Bachelor of Science in Nursing (BSN) and Associate of Science in Nursing (ASN) programs. We also have a BSN Completion Program. Learn about our nursing programs or apply to start college classes today.