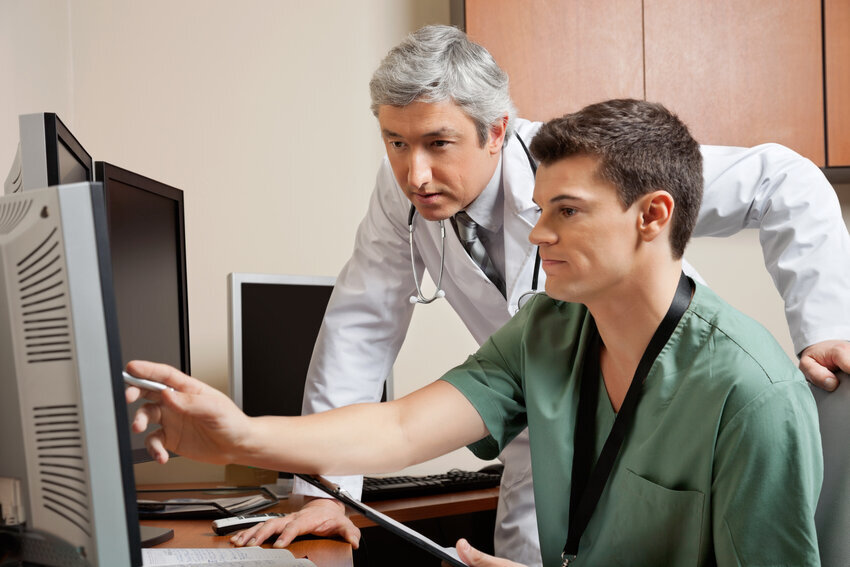 Medical assistants are a fast-growing profession that is highly valued throughout the healthcare field. Many people who want to become medical assistants are attracted to the rewarding career that often has a more regular work schedule compared to nurses, physician assistants, and other medical professionals. They also find that they can fit into a healthcare niche and environment that works for their interests.
If you're curious as to how to become a medical assistant, keep reading. Let's take a look at the following:
What Does a Medical Assistant Do?
Medical assistants (MAs) record patient information, schedule appointments, assist physicians with examinations, perform phlebotomies (blood draws), and give patient injections—which you will learn in a certification program.
MAs who work in larger offices or hospitals may be able to focus more on either clinical or administrative work. Clinical medical assistants do some of what we mentioned above, along with lab tests, sterilizing equipment, preparing patients for X-rays, and more. On the other hand, administrative medical assistants record information in electronic health records, fill out insurance forms, answer telephones, and more.
How Much Does a Medical Assistant Make?
Are you wondering if medical assistants make good money? As of May 2020, the median annual wage for medical assistants was $37,190. This number will fluctuate based on the healthcare setting and the geographic area.
What is the Job Outlook for Medical Assistants?
The amount of employed medical assistants is expected to grow 18% from the year 2020 to 2030. This is slightly higher than other healthcare support occupations (16% projected growth) and more than double all occupations (8% growth).
How to Become a Certified Medical Assistant
The first step to becoming a medical assistant is to apply and be accepted to a certification program. During the program, you'll experience a blend of classroom work, lab sessions, and hands-on training. You'll learn the necessary front and back office skills that medical assistants need to be successful.
Aultman College students learn how to record patient information, schedule appointments, assist physicians with examinations, and administer injections and medications.
During the program's required practicum, you'll have the opportunity to demonstrate your knowledge and gain experience by performing a range of clinical and administrative skills. Practicum settings include physician offices, hospitals, ambulatory care clinics, addiction/mental health clinics, and more.
Following the completion of your certification, you can sit for a national certification exam to become a credentialed medical assistant.
How Long Does It Take to Become a Medical Assistant?
At Aultman College, students complete our medical assistant certification program in two semesters. With classes held two days per week, it's one of the fastest ways to become a medical assistant.
Part of the 18 credit hours includes a practicum. At Aultman College, you'll have access to practicums at various locations. This will help you gain valuable experience working with patients from a variety of social and economic backgrounds.
How to Choose a Medical Assistant Program
When it comes to choosing an MA program, you'll want to find a reputable college that offers access to healthcare settings and professional connections. You will also want to look into how affordable the program is, along with the time requirements for completing it.
At Aultman College, we offer a two-semester medical assistant certification program that is approved by the Higher Learning Commission (HLC) and the Ohio Department of Higher Education (ODHE). It will prepare you for the national certification exam and begin your career as a medical assistant. Many of our students have started their careers on the adjoining Aultman Hospital campus.
Ready to begin your journey at Aultman College? Apply today.