A child's first birthday party is a special occasion – and many professionals and organizations in Stark County are working together to help more children reach this milestone.
Dr. Jeffrey Pellegrino, director of the health sciences program at Aultman College, is working with colleagues across Aultman Health Foundation (AHF) to support and sustain "Diaper Days Extreme," a focused series of classes on critical health topics for pregnant mothers or parents/guardians of children less than a year old.
Family Empowerment Ministries in Alliance in holding the classes, and they're funded by a Canton-Stark County THRIVE grant. After attending all three courses, students would qualify for a box of free diapers and a package of wipes each month for a year.
"The courses in this program focus on important topics such as secondhand smoke and fetal alcohol syndrome," said Pellegrino. "We are also going to teach them infant CPR, talk about safe sleeping environments and prepare them for what to do in an emergency. We're planning to involve our health sciences students from the college in doing some of the groundwork and delivery of the course content."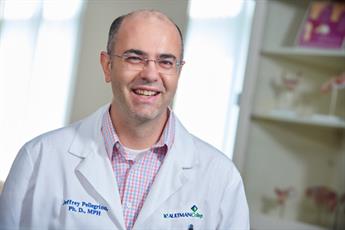 Pellegrino began working with the Alliance organization in 2017, teaching infant CPR courses to community health workers and caregivers. He will be teaching the same content as part of Diaper Days Extreme and will be assisting Brenda Johnson, one of the heads of Family Empowerment Ministries, with data metrics as part of the grant.
"I'm very excited about these classes to have a whole new type of impact on people," said Johnson. "When they return each month over the next year to get their diapers and wipes, we can survey them to find out if they made changes and continued with them. When a baby is born, there's a lot of newness and excitement. Once that wears off, people often go back to old practices of smoking or not sleeping safely, and we are hoping that monthly contact makes a difference."
Other AHF team members involved in the Diaper Days Extreme grant include LaToya Dickens, RN, and Dr. Michael Krew.