Giving to Aultman College
Alumni and community support make a difference. Every gift, regardless of size, can help our students move from aspiration to achievement of their dreams.
There are many ways you can contribute to Aultman College. Your generous gift could establish a new scholarship honoring those who have made a profound impact on your life and the lives of others. You can contribute to the 1892 Scholarship Endowment. You can participate in the annual Aully's Open Golf Outing, held each fall. Or perhaps you are considering a planned gift that ensures the legacy you embraced during your lifetime is continued through the gift of education to deserving students.
Donor Recognition
Standing in a prominent position across from the college's main office is the Giving Tree. This tree is an opportunity to recognize our donors, so that all who pass by can see the supporters who believe in our students' educational goals.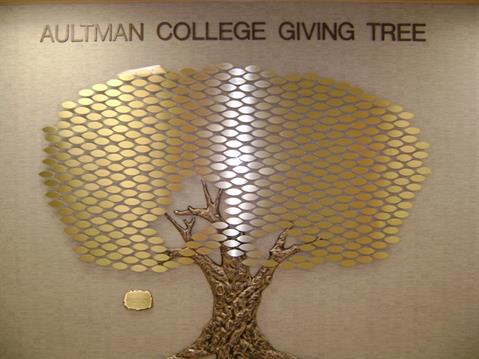 The areas on the tree represent:
Leaves: $500 in cumulative giving
Small rocks: $5,000 in cumulative giving
Large rocks: $25,000 in cumulative giving