Grateful Student Story: Connor Rutledge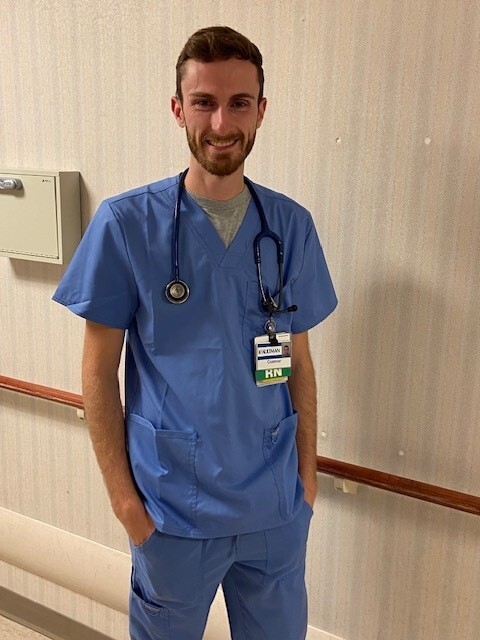 When Connor Rutledge first visited Aultman College in 2019 as a high school student from Carrollton, Ohio, the hands-on activities hooked him. "We got to actually practice skills on the mannequins during the information session," said Connor. "No other college was doing that." The experiential learning, the connection to Aultman Hospital, direct admission into the Bachelor of science in Nursing (BSN) program, and having a chance to talk with Aultman College President Dr. Jean Paddock cemented his decision to enroll. "I liked the small class sizes and that I could really get to know the faculty and other students. I felt like it would be a good fit for me."

But first, he had to finish high school. Connor's interest in medicine began while he was taking biomedical coursework as part of his high school engineering program. Other students were intimidated by anatomy and physiology, but Connor loved learning about the body, system by system.
"I felt a calling … it was really laid on my heart to go into nursing. I found out later that I really had no clue what nursing was all about," laughed Connor. "It took me about two years to really begin to understand the career."

Connor enrolled in the BSN program. His high school GPA and ACT score earned him the college's Presidential Scholarship, which fully covered his tuition. He also applied for and received the Magaret Lazar/Emma Lupher Scholarship during his junior year, which helped him cover book expenses through the remainder of his schooling.

During his junior year, Connor's love of hands-on learning led him to begin working part-time as a patient care tech at Aultman Hospital. "The ability to work in the hospital alongside nursing school expands the opportunity to see, experience, and do so much more than clinicals allow," said Connor. His hospital employment helped him build valuable connections, and his success as a student resulted in a paid internship on the Medical Intensive Care Unit f(MICU) floor, providing valuable critical care experience not normally available to nursing students.

The support from Aultman donors continued as Connor approached graduation. "I applied for and received the SAL Compassion Award, which helped me cover my final fees and my NCLEX exam registration." After passing NCLEX in June, he began a full-time position as a staff nurse in the MICU as part of his internship agreement.

Starting into his career without school loans has helped Connor fast-track his life as a young professional in Stark County. The rusty 2002 Honda Accord with the dangling parts that he drove throughout nursing school has been swapped out for a reliable 2017 Subaru Forrester that he keeps sparkling clean. He is also saving up to buy his own home.

"I am really happy about my decision to attend Aultman College," said Connor. "The connection to the hospital presented opportunities and resources that were critical to getting to where I am today. I am also grateful to the donors who helped me and made it possible for other students to pursue their healthcare dreams. I have classmates who were working multiple jobs to be able to afford their education, so those scholarships matter. It inspires me to think about how I can now invest in the next generation of healthcare professionals."
You can impact the future for healthcare students like Connor by clicking here to donate to the Aultman College scholarship fund or contacting Vi Leggett to set up an endowed scholarship.