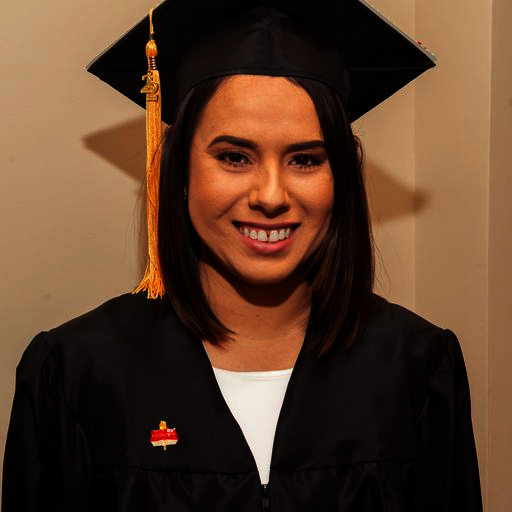 For Linda Gutierrez Perez, family is everything. Her family immigrated from Mexico when she was 10 years old. One of seven children and the oldest of six girls, Linda shares a deep bond with her siblings.
In January 2023, Linda made her family proud by being the first to graduate college, earning a bachelor of science in nursing degree from Aultman College. Linda shares that her youngest sister is the reason she enrolled in nursing school.
When her youngest sister was born with Down Syndrome and a serious heart condition, Linda and her family spent many days at Akron Children's Hospital. The diagnosis came with an overwhelming amount of information. Desiring to help her family navigate the new health journey and inspired by the incredible care provided by the nursing staff, Linda decided to become a nurse.
In 2016, Linda began her journey at Aultman College as a non-traditional student with a 3-year-old daughter. Reflecting on her seven years as a student, Linda overcame many challenges to complete her degree.
Linda is a part of the DACA program, which affords her a work permit and a legal way to attend college. Unfortunately, this also meant Linda could not receive government aid for her education. Linda was awarded several scholarships, but she had to pay a good portion of tuition out of pocket and charge it to her credit card.
Linda said, "There were times I thought about quitting because I didn't have the money to keep going." She and her husband welcomed their second daughter in 2020 and Linda recalled, "It was hard. I had to balance my family life, job, and school."
Thankfully for Linda, donors to Aultman College significantly alleviated her financial stress. She received help paying for school expenses, which made it possible to keep going. Linda shared that the Aultman College faculty were also influential in her schooling. Her foundations class instructor, Michelle Grametbauer, was a steady support for Linda, helping her develop test-taking strategies and efficient studying tips. Linda mentioned that the Student Resource Center was equally phenomenal. Since English is her second language, having a private room to take exams significantly reduced her test-taking anxiety.
It was a long journey to graduation, but with Linda's perseverance and through the support of donors, college staff and her family, Linda achieved her goal and now works at Aultman Orrville Hospital as a nurse technician. With her new degree, she hopes to become a nurse on a labor and delivery floor, using her certification as a medical interpreter to pay it forward to the local Hispanic community.
When asked what advice she would give others considering healthcare degrees, she remarked, "I would like to encourage them that it can be done! As long as they are willing to try and try harder than most other students, they can do it. Don't discourage yourself … put in the effort and don't give up!"
You can impact the future for healthcare students like Linda by clicking here to donate to the Aultman College scholarship fund or contacting Vi Leggett to set up an endowed scholarship.