Jean Paddock, Ph.D.
President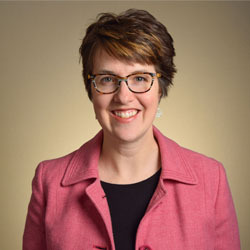 Jean Paddock, Ph.D.
President
330-363-6347 - [email protected]
BS, University of Cincinnati
MS, University of Cincinnati
Ph.D., University of Cincinnati
Jean R. Paddock took office in January 2018 as the second president of Aultman College. Prior to this role, she served as the vice president of academic affairs, where she led all academic activities of the college.
President Paddock brings a background of academic research in the physical sciences, a teaching career that spans high school and collegiate education, and higher education leadership that is grounded within a health system-affiliated college. She believes in the power of education to change thought and belief, providing opportunities and a "ticket" that can never be taken away from the learner.
President Paddock was born and raised in Dover, Ohio. She attended the University of Cincinnati and earned her bachelor of science in chemistry and her master's and doctoral degrees, both focused in analytical chemistry. She began her teaching career as the E.E. Ford Science Instructor at The Seven Hills School in Cincinnati before returning to the Akron-Canton region to join Aultman College to teach chemistry and found the division of general education. She was promoted to vice president of academic affairs, a role she served in for five years before she was chosen by the board of directors to become president.
President Paddock's research expertise is in chemical education and also formerly in the development of spectroelectrochemical sensors for nuclear waste, with work published in the Journal of Applied Spectroscopy and more recently in the Journal of Chemical Education. She has presented on a wide variety of chemistry, environmental, and education topics for organizations such as the Franklin University Teaching and Learning in Higher Education conference, Cleveland State University, the University of Cincinnati, and the American Chemical Society.
President Paddock has been honored as one of Stark County's "Twenty under 40" and recognized in Ohio Magazine's "Excellence in Education" feature. She serves on the executive committee board for the Association of Independent Colleges and Universities of Ohio (AICUO) and is Vice President of the Consortium of Hospital-Affiliated Colleges and Universities (CHACU). For fun, she loves her work as an Ohio Certified Volunteer Naturalist and you can find her adventuring in life with her husband, Thomas, and two dogs: Linus and Sally. You can read more about Dr. Paddock by clicking here.