Sue Shepherd, MBA, RN
Dean of Academic Support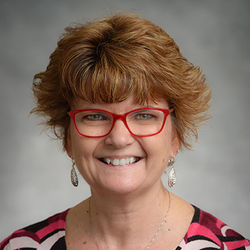 Sue Shepherd, MBA, RN
Dean of Academic Support
330-363-4349 - susan.shepherd@aultmancollege.edu
Diploma, Aultman Hospital School of Nursing
BSN, Malone University
MBA, Malone University
Sue Shepherd received her diploma of nursing from Aultman School of Professional Nursing in 1981. She received her Bachelor's Degree of Science in Nursing in 2001 and her Master's Degree in Business Administration in 2003 from Malone University. She has worked for Aultman Health Foundation since she received her nursing licensure in 1982 in various capacities from staff nurse to head nurse. She has been with Aultman College since its inception in 2004 holding multiple roles. She is currently the Dean of Academic Support for the college overseeing the Student Success Center, Academic Library, as well as the Skills and Simulation laboratories.
Sue is an active member of Pi Chi Chapter Sigma Theta Tau currently serving as their secretary, a member of the RG Drage Health Technologies Advisory Board. A past board member of the Ohio Association of College Registrars and Admission Officers, she also volunteers for many community activities.
Sue is married with two grown children. She enjoys traveling, reading, learning new things and spending time with family and friends.