Nursing is more than a career—it's a calling. For students looking for a degree that will help them jumpstart their career, Aultman College's Associate of Science in Nursing is a great place to start. We can prepare you with the knowledge and experience to become a professional who will lead our community to improved health. With this career, you'll help others and make a difference.
But how do you get accepted into a nursing program? What is an associate degree in nursing? How much will it cost, and how long does it take to get an associate degree in nursing? What is involved in the program? What can you do with an associate degree in nursing? In this article, we'll answer these questions and more. Let's discover the ins and outs.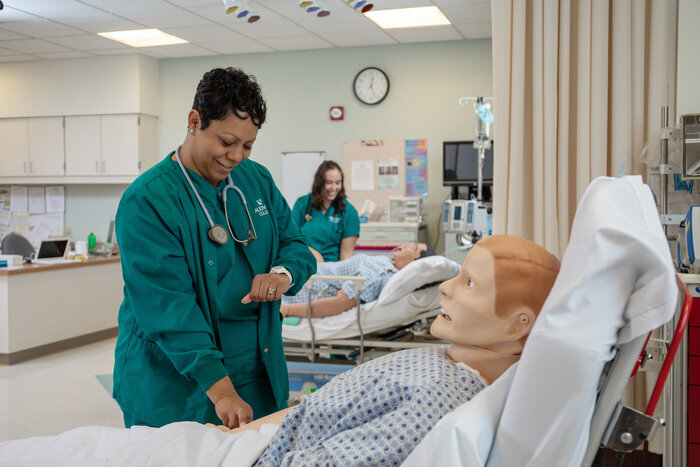 Admission Requirements for ASN Program
Many colleges make it difficult for students to enter into their nursing programs. Not only do they require "double-acceptance" into both the college and the nursing program due, but they also have pre-majoring requirements and offer limited program spots. At Aultman College, we directly admit students into their nursing program when accepted into our school. This means students get to start their nursing classes within their first semester.
ASN degree program applicants attending college for the first time must have a minimum of:
A high school GPA of 3.00 or equivalency
20 ACT (1030 SAT or ACCUPLACER NextGen scores: Reading Comprehension of 250+ and Quantitative Reasoning, Algebra and Statistics Score of 263+)
58.7% composite TEAS score and 58.7% or higher on each of the four sections
Transfer applicants must have six or more credit hours of college coursework and at least a 2.70 GPA based on the most recent college transcript.
Once accepted, you'll start your five-semester journey into our associate of science in nursing program.
Tuition & Financial Aid
Attending college is an important decision that can lay the foundation for your future. It's a significant financial investment that has a high return on investment for your career and life. At Aultman College we work hard to provide a learning environment where you reach your full potential.
Aultman College is the lowest-priced non-profit private college with the best outcomes in the area. Our graduates' pass rates on exams exceed state and national averages, and Aultman College has been ranked 25th in the nation for alumni earnings and success.
Learn about tuition for the ASN program. We offer financial aid and resources related to scholarships, loans, grants, and federal work-study to ensure our students can afford their education. And, if you work for Aultman Health Foundation, you'll receive a discount on our tuition.
Keep reading to discover what you could earn when you begin your career in nursing.
Nursing Program Curriculum
Our associate of science in nursing program is designed to be completed in five semesters (less than two years). It combines classroom instruction, hands-on experiences in skills and simulation laboratories, and clinical placements in a variety of settings to prepare students for the national licensing exam (NCLEX) to become a registered nurse (RN).
ASN students will take classes that include: Anatomy and Physiology, Nursing Success Skills, Medical Language, Medical-Surgical Nursing, Pharmacology for Nursing, Introduction to Psychology, Human Growth and Development, Mental Health Nursing, Microbiology, and Maternal-Child Nursing.
Aultman College shares a campus with Aultman Hospital. This hospital is Stark County's largest employer and the area's only Magnet designated facility. You'll receive incredible clinical and learning experiences in this health system.
Nursing students need hands-on experience, which is why we provide state-of-the-art technology. Classroom instruction is combined with simulation technology to interact with patient simulators that can blink, talk and breathe. An interactive Anatomage table allows students to study and discover human anatomy through touchscreen. These tools help elevate your education along with your level of patient care.
Career Pathways: What can you do with an associate degree in nursing?
When you become a registered nurse (RN), you can work in a variety of clinical settings. These include hospitals, physician offices, clinics, surgery centers, and long-term care and rehabilitation facilities. And again, our partnership with Aultman Hospital provides premier access to clinical placement and career opportunities. We're proud to say that 100% of our ASN graduates found job placement within one year of graduation.
Registered nurses provide nursing care to patients. Their duties will vary depending upon their environment, but they could include administering medication, monitoring medical records, and reporting a patient's medical status to a doctor.
The average salary for RNs nationwide is $75,330 (as of 2020, according to the U.S. Bureau of Labor Statistics). For Ohio, the average salary is $69,750. Employment of RNs is expected to grow by nearly 10% through 2030.
If you'd like to further your education, Aultman College offers a BSN Completion (BSN-C) program. This online program allows you to broaden your career opportunities and further your education. If you'd like to become a nurse anesthetist, nurse practitioner, nurse leader, or educator, this is a path you should consider.
Frequently Asked Questions
What is an associate degree in nursing?
In general, this is a two-year degree that prepares students to take the NCLEX in order to become a registered nurse. RNs with this degree can work in a variety of clinical settings and/or go on to obtain their bachelor's degree.
Can I become an RN in two years?
Yes! Our ASN program is designed to be complete in five semester/less than two years. But please note: this is a demanding program – many of our students find it difficult to work a part-time job in addition to taking classes. A BSN degree will also set you up to become an RN, but in four years' time.
How many credits is an associate degree in nursing?
At Aultman College, we require students to complete 73 credit hours.
How much does an associate degree in nursing cost?
Program costs will vary depending on the college you attend. See current tuition rates for the Aultman College ASN program.
Is getting an associate degree in nursing worth it?
Working in nursing can be a very gratifying, enriching experience. Read about a former student's experience as an ER nurse.
Is there a different NCLEX exam for ASN and BSN students?
No—students earning both degrees will take the same test to become a licensed RN. Both programs are designed to prepare you for the test.
Is the ASN program the only one you offer?
In addition to our associate of science in nursing program, we also offer a Bachelor of Science in nursing and RN-BSN completion programs.
What if I'm interested in attending Aultman College but don't want to go into nursing?
We have degree options for social work, radiography, and other health professions. If you feel passionate about helping others and have an interest in the healthcare industry, we have an option for you.
Can I tour the campus?
Of course! You can schedule an on-campus tour to speak directly with a recruiter who will answer any questions you may have as they show you our facilities and provide a brief information session.
When can I get started?
Start your application now or contact us with any questions you have.
We hope you'll begin your journey towards a nursing career with us at Aultman College.