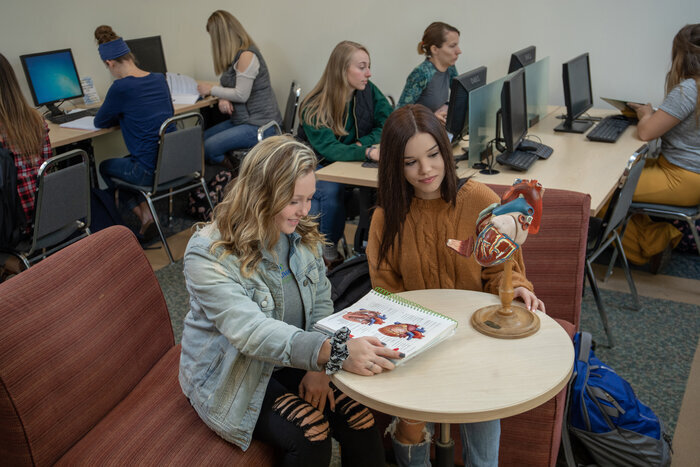 Nursing is a challenging yet rewarding career. As a registered nurse, you'll find an incredible number of job opportunities in hospitals, private practices, community settings, educational institutions, and beyond. Even though your career choices are endless, there is one choice you must first make: Which registered nursing program near you will you complete?
At Aultman College in Canton, Ohio, we have three nursing programs to choose from: Associate of Science in Nursing, Bachelor of Science in Nursing, and RN to BSN Completion Program. Watch the video below to learn more and keep reading to dive into the best nursing programs in Northeast Ohio.
The Best Nursing Programs at Aultman College
Associate of Science in Nursing (ASN)
Our ASN program is designed to be completed in five semesters. Upon acceptance, students are directly entered into the program in the spring semester each year. The program features medical-based curriculum and clinicals in settings like acute care, long-term care, and community sites.
The ASN program prepares students to take the NCLEX (National Council Licensure Examination) exam to become registered nurses. ASN graduates can find a variety of entry-level nursing jobs, including various inpatient nursing units and skilled nursing care at Aultman Health Foundation facilities.
Bachelor of Science in Nursing (BSN)
Upon acceptance, students are directly entered into Aultman College's BSN program—which was ranked 15th in Ohio by BestValueSchools.org. This 4-year degree begins in the fall and spring semesters. It features a concept-based curriculum and clinicals in settings similar to the ASN program.
After graduating from our BSN program and passing the NCLEX, our graduates can pursue a variety of careers, from critical care nursing to legal nurse consulting. Many of them end up working at Aultman Health Foundation facilities. One hundred percent of our graduates find jobs within one year of graduating.
Bachelor of Science in Nursing Completion Program (RN to BSN)
Our RN to BSN Completion Program was ranked #1 in Ohio and #8 in the nation by RegisteredNursing.org. It's perfect for registered nurses with an associate degree or diploma who want to complete their BSN degree. We offer the RN to BSN degree 100% online at a lower tuition rate.
Going the extra step to get a BSN degree gives our students more opportunity for personal growth, professional advancement, and increased wages.
Benefits of Our Nursing Programs
As one of the best colleges and universities with great nursing programs, our goal is to prepare exceptional nurses who positively impact society. We've been training future nurses for more than 125 years, and we're the only health system-affiliated institution of higher education in Northeast Ohio.
Compared to Ohio and national averages, Aultman College consistently achieves a higher NCLEX passage rate. Our NCLEX pass rate for 2020-21 was 94.37%; Ohio and national averages tend to lie in the upper 80 percentages.
Another benefit of Aultman College's nursing programs is our small classes. Students appreciate our student-to-faculty ratio of 5-to-1. They feel they get personalized attention from faculty, which greatly helps their success in our programs. We provide state-of-the-art technology for hands-on experience—before clinicals even begin. Classroom instruction is combined with simulation technology, like virtual anatomy dissection tables. Students and instructors have found that this elevates our students' education and their level of patient care.
Aultman College's location is another great benefit. Our campus is in Canton, Ohio, which is about one hour from Cleveland and Youngstown. Our students enjoy the small town feel with easy access to larger cities in Northeast Ohio.
Our school shares a campus with Aultman Hospital. As Stark County's largest employer, it provides premier access to clinical placement and nursing career opportunities. Our students receive incredible clinical and learning experiences in this health system.
Apply to the Best Nursing Programs in Northeast Ohio
At Aultman College, we want to help you reach your goals. Whether you're beginning your nursing career or thinking about going back to school for your BSN, we can provide a path for you. Reach out to schedule a tour of our campus or apply online today.