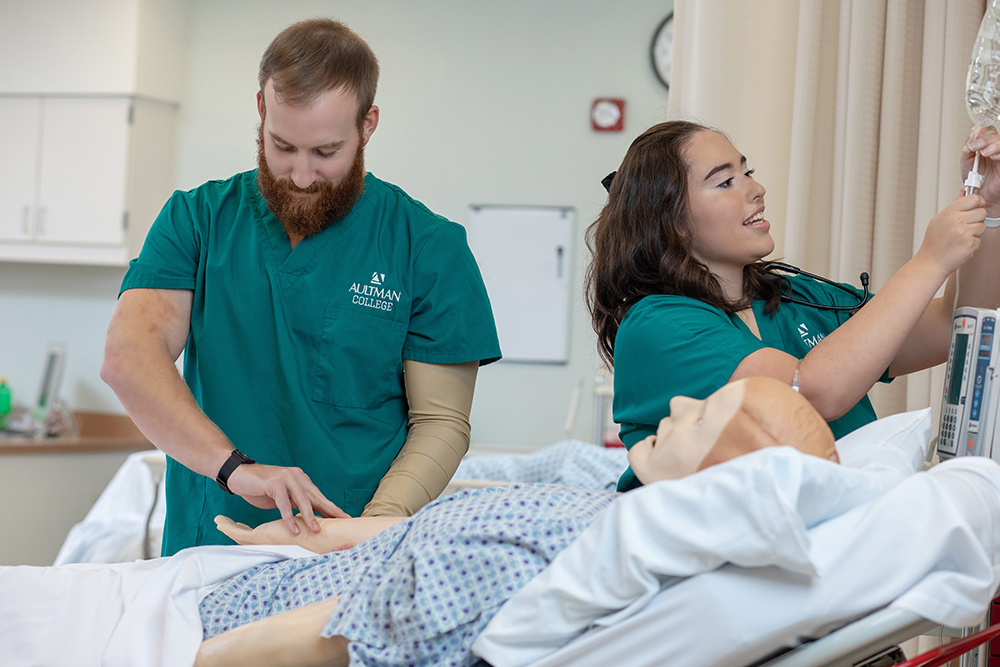 Now more than ever, there is a great need for nurses. For those who feel compelled to answer the call, finding a good school for nursing can be a challenge. There are many factors that go into deciding which school is best for you.
If you're wondering how to find good schools for nursing in Ohio, you've come to the right place. We know Aultman College has some of the best nursing programs in the state—we'll detail the accolades in bit.
A career in nursing can set you up for an amazing future of helping others, making a difference, earning a competitive salary, working in a variety of settings and specialties, and so much more. Discover how to start your nursing education by finding good schools for nursing.
6 Things to Look at When Researching Good Nursing Schools in Ohio
There are 6 main aspects to look for in a nursing school, whether you're about to graduate high school or you're an RN returning for your bachelor's degree. These aspects are:
Accreditations from national and local nursing education programs provides legitimacy to your school's nursing programs. You'll want to look for this designation, whether you're going into an ASN or BSN program.
Aultman Advantage
At Aultman College, we participate in and comply with accrediting and regulatory processes that ensures a quality education for our students. Our college is authorized by the Ohio Department of Education (ODHE) and regionally accredited by the Higher Learning Commission (HLC).
Our associate degree nursing program is accredited by the Accreditation Commission for Education in Nursing (ACEN), and our Bachelor of Science in Nursing program is approved by the Ohio Board of Nursing (OBN).
Meeting the requirements set forth by these regulatory agencies ensures an ongoing process of assessing institutional effectiveness for our students.
2. High acceptance rate
Many schools only accept a select few to join their nursing program. They tend to have "double-acceptance," in which you are accepted into the college and, later, the nursing program. You will need to decide if you want to enter their competitive programs or find a school that offers direct acceptance into their nursing programs.
Aultman Advantage
Start your journey to a nursing career on Day 1 at Aultman College. Our ASN and BSN programs offer direct entry, so you're not competing for limited seats.
Our Bachelor of Science in Nursing program is a four-year degree with two entry points each year. Our Associate of Science in Nursing program is a five-semester program with a spring semester starting point. Finally, our BSN Completion Program offers three entry points to the online program each year.
3. Program outcomes
Take a look at the school's graduation rate, NCLEX rate, and graduate employment rate. This data will help predict your success in their nursing programs—and your future.
Aultman Advantage
We are proud to say that within one year of graduating from our nursing programs, 100% of graduates find employment. This is in large part due to our partnership with Aultman Health Network, in which nearly 60% of graduates wind up working. Salary website PayScale ranked us 25th in the nation for alumni earnings and success.
In order to become a nurse, you must obtain an ASN or BSN degree and licensure from your state and pass the NCLEX-RN. At Aultman College, we make sure you are prepared for this exam. Our NCLEX pass rates often surpass state and national averages.
4. Quality of education
For this factor, you may need to tour the college to get a feel for things like how big their classes are, how involved the faculty is with students, and how up to date their labs and technology are.
Aultman Advantage
As a student-focused college, we strive for small class sizes. Our student-to-faculty ratio is 5 to 1. Most of our classes have fewer than 20 students. Smaller class sizes ensure students receive more personalized attention from faculty.
Our state-of-the-art technology allows students to interact with patient simulators for hands-on training. For example, we have virtual anatomy dissection tables and medium-fidelity simulation models in our two skills labs.
We are proud to say that our accredited nursing programs have been recognized by national organizations. Recognitions include being named the 15th best nursing school in Ohio, one of the best online BSN completion programs in the nation, and one of the best ASN programs in Ohio and the highest ranked in the Akron-Canton region.
Don't miss the admission deadline for

Nursing Programs

Apply Now
5. Affordability of tuition
When you go to college, you're investing a lot of time, energy, and—of course—money into your education. Look for nursing schools that fit your budget while still offering reputable programs.
Aultman Advantage
Aultman College is the lowest-priced private college with some of the best graduate outcomes in Northeast Ohio. Take our 2021-22 tuition rates for example:
Bachelor of Science in Nursing: $9,105 a semester (12-18 credit hours); $777 per credit hour (for less than 12 credit hours)
Associate of Science in Nursing: $9,105 a semester (12-18 credit hours); $777 per credit hour (for less than 12 credit hours)
RN-BSN completion program: $285 per credit hour (100% online program offered at a lower tuition rate)
Our leadership and board of directors strive to ensure tuition is affordable. For example, they implemented a tuition freeze for the 2022-23 academic year, due to the health care worker shortage in our communities, amongst other factors.
6. Variety of financial aid
College is a major investment in yourself and your future. Ensure your preferred school offers financial aid, scholarships, federal work-study, etc. to help offset the cost of tuition.
Aultman Advantage
We make your education affordable through scholarships, loans, grants, and federal work-study. For example, students who work at Aultman while going to school can save anywhere from $17,600 to more than $38,000 based on their nursing program.
Through awarding millions of dollars in financial aid and scholarships, to occasionally freezing tuition, we find ways to assist our students in their education. Aultman College staff can walk you through financial aid options that work best for you.
Start Your Nursing Journey Today
Aultman College has been preparing the nurses of tomorrow for more than 125 years. If you're ready to join one of our nursing programs—or simply want to learn more—schedule a visit or apply today.