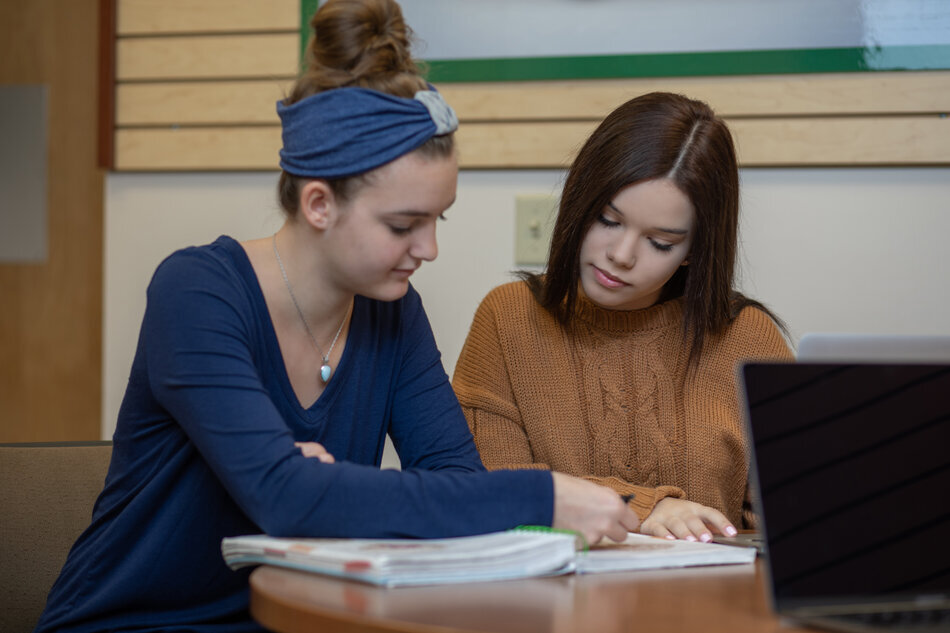 Deciding which college to attend – or even transfer to – is a big decision in your life. At Aultman College, we're here to make that choice easier for you with our top 5 reasons to apply to one of our healthcare programs.
For more than 130 years, we've been educating future nurses, radiographers, and other students entering health professions. Are you next?
1. Variety of Nursing & Healthcare Programs
At Aultman College, our students enjoy direct entry into the program of their choice: Associate or Bachelor of Science in Nursing; Associate of Applied Science in Radiography; and other health profession programs, such as social work and health sciences.
Our accredited nursing programs have been recognized by national organizations, including:
Additionally, Aultman Hospital – which Aultman College is affiliated with (see #3) – was named one of Forbes Best-In-State Employers.
2. Small Class Sizes
We pride ourselves on being a student-focused college. At Aultman College, you are not just a number to us or a name on a roster. We take your education seriously, which is why our student-to-faculty ratio is 5 to 1. In fact, the majority of our classes have fewer than 20 students.
With smaller class sizes, students get more personalized attention from faculty and more opportunities to learn from our state-of-the-art technology and patient simulators. And it is why many students choose to attend Aultman College over larger universities.
3. Our Affiliation with Aultman Hospital
Aultman College is the only hospital-affiliated college in Northeast Ohio. We share a campus with Aultman Hospital, which is Stark County's largest employer. This partnership offers a unique, immersive student experience.
Many of our students have clinical placements within the hospital, so you won't have to go far for hands-on training and real-world experience. Even better, as part of Aultman Health Foundation, many students find jobs within the network. And, if students work at Aultman while attending our college, they'll receive tuition reimbursements and discounts.
Which brings us to our next reason for choosing Aultman College…
4. Affordable Tuition
Attending college is one of the best investments you can make in yourself and your future. However, we understand that it's not an easy decision to make since tuition can be costly.
Aultman College is already the lowest-priced private college with some of the best graduate outcomes in Northeast Ohio. Yet we still offer financial aid resources related to scholarships, loans, grants, and federal work-study. For example, nearly $5 million in financial aid and scholarships is awarded annually. And, by working at Aultman and going to school, students can save anywhere from $17,600 to more than $38,000 based on their program.
We also strive to find other ways to make our education affordable. For the 2022-23 academic year, we froze tuition to assist students interested in the health care field.
We mentioned college being a good investment, so you're probably wondering what the returns are like. Salary website PayScale named Aultman College 25th in the nation for graduate earnings.
5. High Job Placement Rates
Are you ready for this stat…?
One hundred percent of our nursing program graduates find jobs within one year of graduating. This impressive number is due to our hard-working students, our partnership with Aultman Hospital—where up to 60% of graduates find jobs—and our NCLEX passage rate. Aultman College consistently achieves a higher passage rate than the Ohio and national averages.
If you graduate from one of Aultman College's nursing programs and become an RN, you could be looking at an average annual starting salary of $75,330. The demand for nurses is continuing to grow, so we expect our students to have continued success.
Visit Our Campus Today
We would love for you to visit our campus to see why we are the preferred healthcare educator in our region.
Our student-centered culture values:
Compassion, integrity, and respect
The success of each student and employee
Diversity of ideas, cultures, and people
Influential and inspired leadership
Market-relevant education
Start your nursing or health care profession journey today – apply now to Aultman College.