An Overview of the Financial Aid Process for Undergraduate Students
How the Student Loan Process Works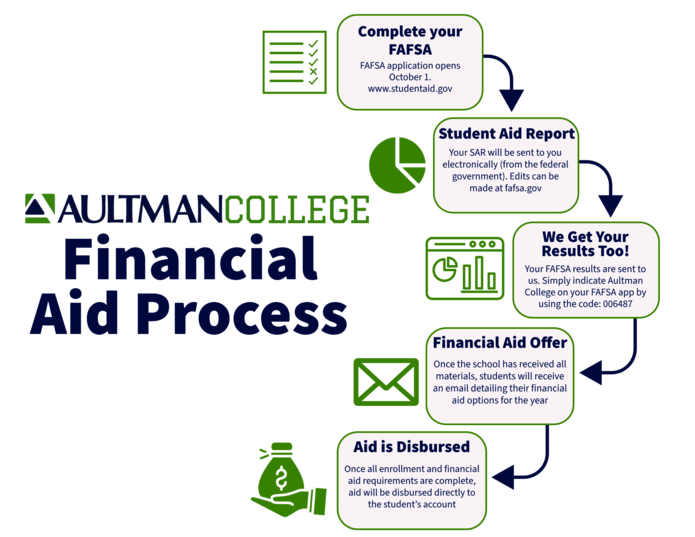 Aultman College participates in the Federal Direct Loan Program. Students borrow directly from the federal government through the Financial Aid Office.
A student should accept or decline all or part of his or her loan here. The Financial Aid Office will process the loan.
First-time borrowers of a Direct loan are required to sign a Master Promissory Note (MPN).
He or she is also required to complete loan entrance counseling, which explains the rights and responsibilities of borrowers. Both the MPN and loan entrance counseling should be completed at www.studentloans.gov.
FILE THE FAFSA: The student submits a completed Free Application for Federal Student Aid (FAFSA) to the Central Processing Center at fafsa.ed.gov. (Aultman College school code is 006487)
STUDENT AID REPORT (SAR): Each student will receive this electronically after filing the FAFSA and should keep this for his or her records. If corrections to the SAR need to be made, he or she can do so online at www.fafsa.gov.
WE RECEIVE YOUR FAFSA DATA TOO: The Financial Aid Office receives FAFSA results (with our school code) electronically from the Central Processor. You will also need to submit any additional information that we may request from you. Please contact the Financial Aid Office with any questions regarding what is required ([email protected]).
FINANCIAL AID AWARD NOTIFICATION: Will be sent to each student who has been awarded financial aid. He or she will be emailed a copy of their award letter. He or she will need to complete and return to the Financial Aid Office to accept or decline the financial aid award. Gift aid (such as grants, scholarships, and institutional aid) is automatically accepted on each account.
WE'RE HERE TO HELP: Please contact the Financial Aid Office at

[email protected]

or 330.363.6347 with any questions.
THE FINAL STEP: Assuming the student's financial aid file is complete and enrollment requirements are met, all accepted financial aid is then credited to the student's account. This occurs in the middle of each semester. Students may review their accounts on the Student Portal. If there is a credit remaining after all charges for that semester has been paid, a refund is issued. If there is still a balance due after all financial aid has been applied, the student is responsible for that remaining balance. (Balances are due the beginning of each semester. Payment options are available.)